CETRA _ CLUB OF CAVING A TRAPA

2021

INTERNATIONAL YEAR OF CAVES AND KARST
WORLD ATLAS on GRANITE PSEUDOKARST
November 2014: Compiled more than 440 references about granite caves of the World.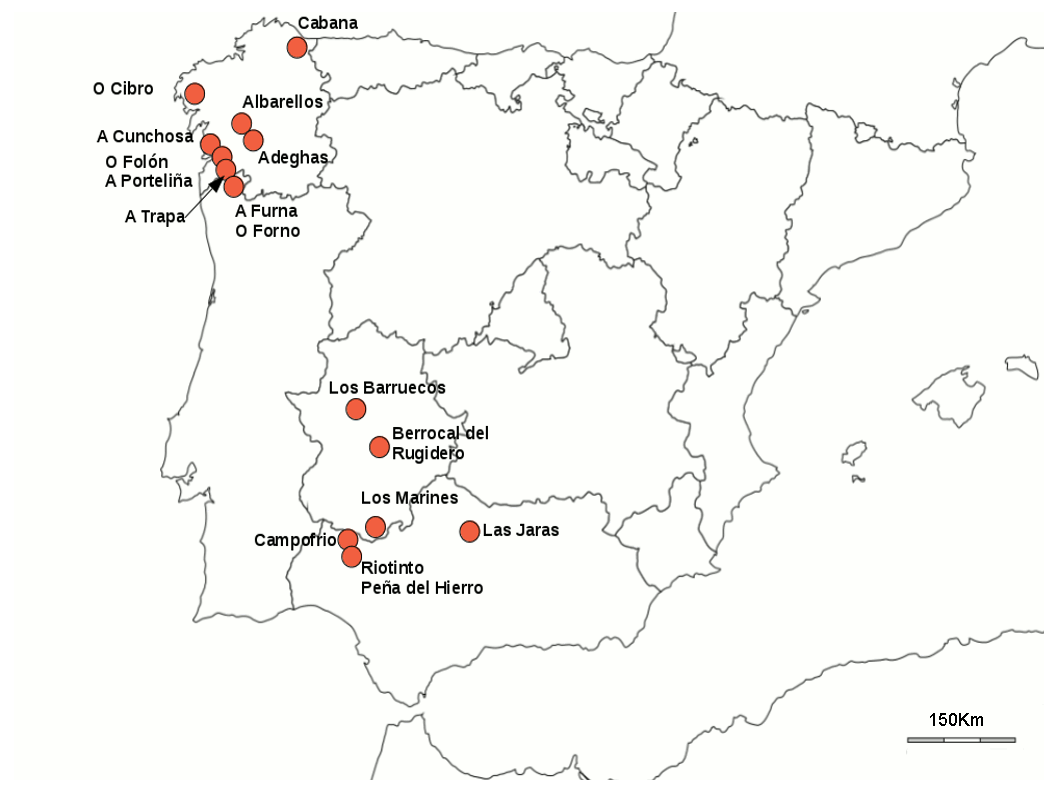 Following Wheeland's criterion (1982) an update of the Atlas on pseudokarst of Charbert and Courbon (1997) was made, compiling more than 440 references on caves with certain importance, distributed in 37 countries and five continents. All are related to granitic rock.
SUBGLACIAL CAVES from O COUREL
June 2014: We've reached the -94 m of depth in Rogueiras cave (O Courel, Lugo, Galicia).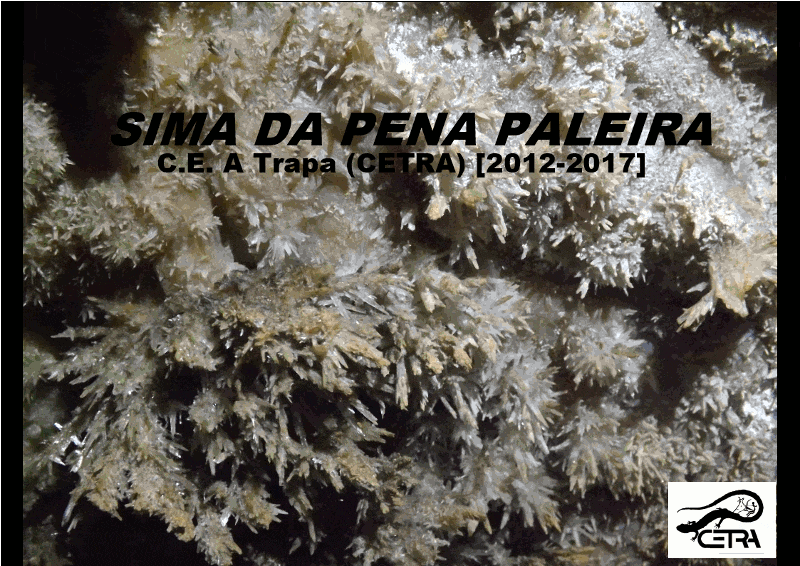 DATA SUMMARY for Rogueiras Model
Included Length
480 m
Total Surveyed
In process
Cave Depth
-86 m
Discovered by: Orlando Álvarez (september 2011)
GRANITE PSEUDOKARST
June 2013: 3D ANAGLYPH - V 2.0. Granite caves anaglyphs from metric to nanometric scale .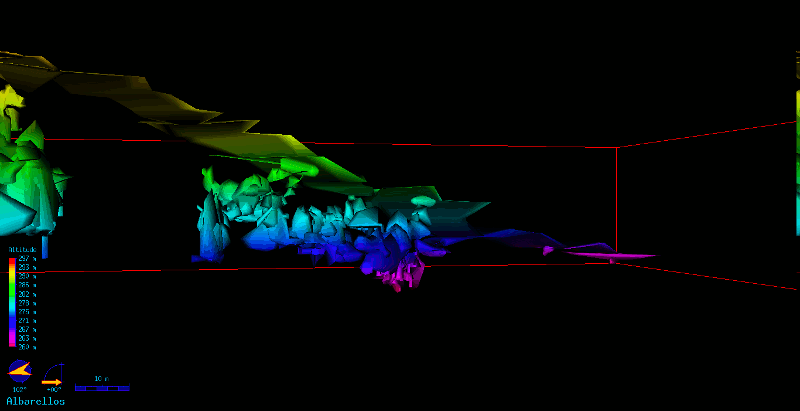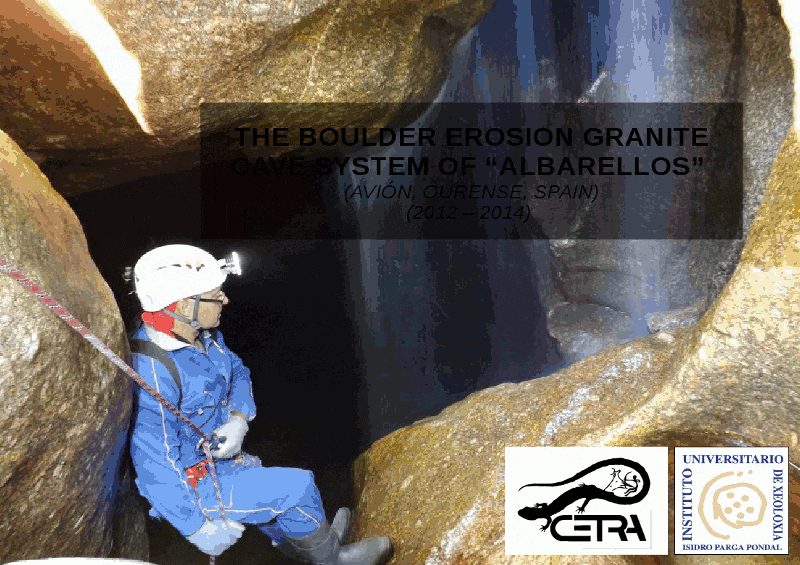 ALBARELLOS PROJECT: October 2012 - December 2014. Surveying the bigest granite cave of Galicia.
DATA SUMMARY for Albarellos Model
Included Length
839 m
Total Surveyed
In process (>1261 m)
Cave Depth
-36 m
Discovered by: Manuel Jesús Suárez Fuentetaja (AXENA)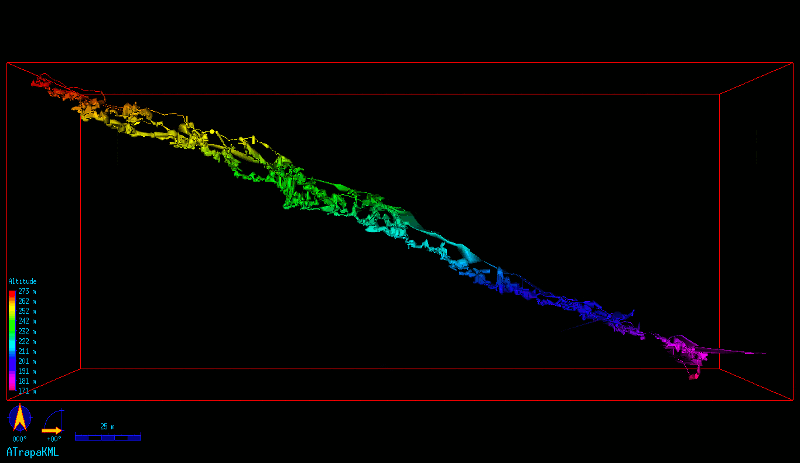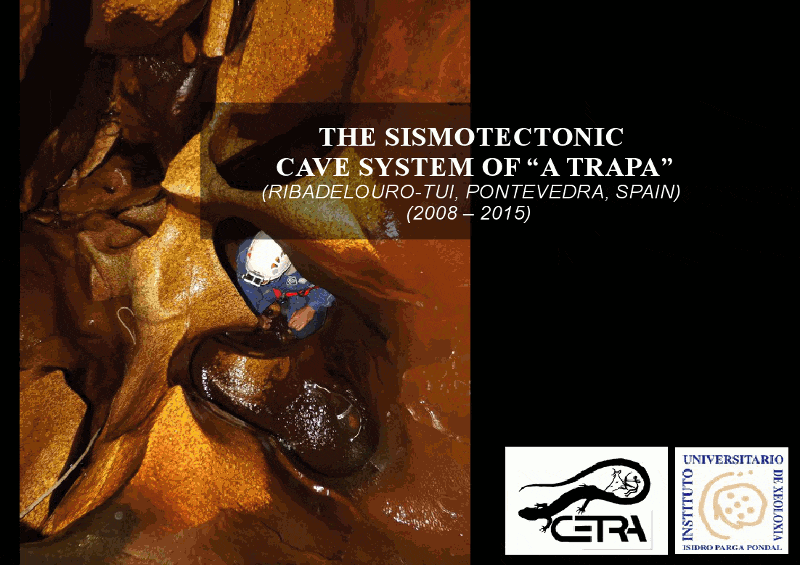 A TRAPA PROJECT:February 2015. Closing the project: A Trapa Cave System is over 1600 m. of length.
DATA SUMMARY for A Trapa FINAL Model
Included Length
1587,0 m
Total Surveyed
2363,6 m
Cave Depth
102,0 m
Previous record: 1340,3 m ( CEM 2011)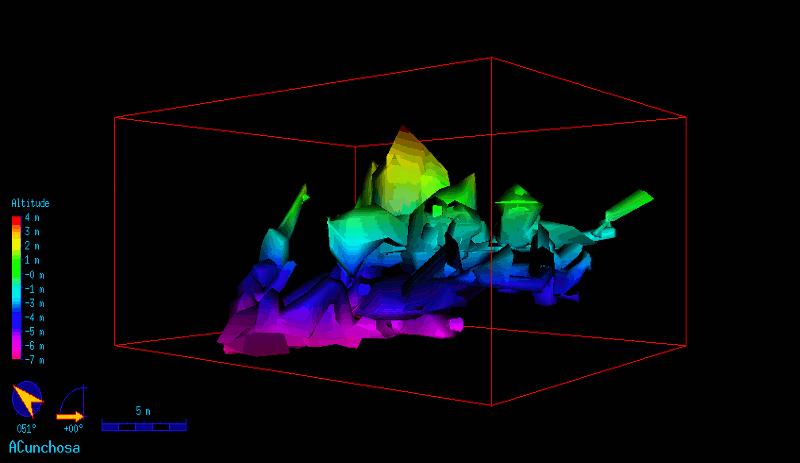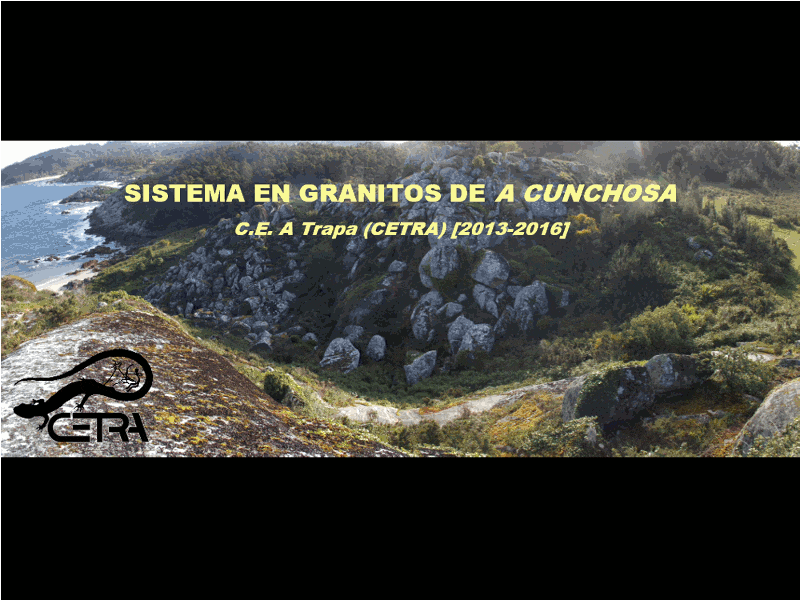 A CUNCHOSA PROJECT: February 2015. Granite cave system of "A Cunchosa" (Aldán, Pontevedra, Galicia).
DATA SUMMARY for A Cunchosa Model
Included Length
174,0 m
Total Surveyed
186,2 m
Cave Depth
7,5 m
Previous record: No data.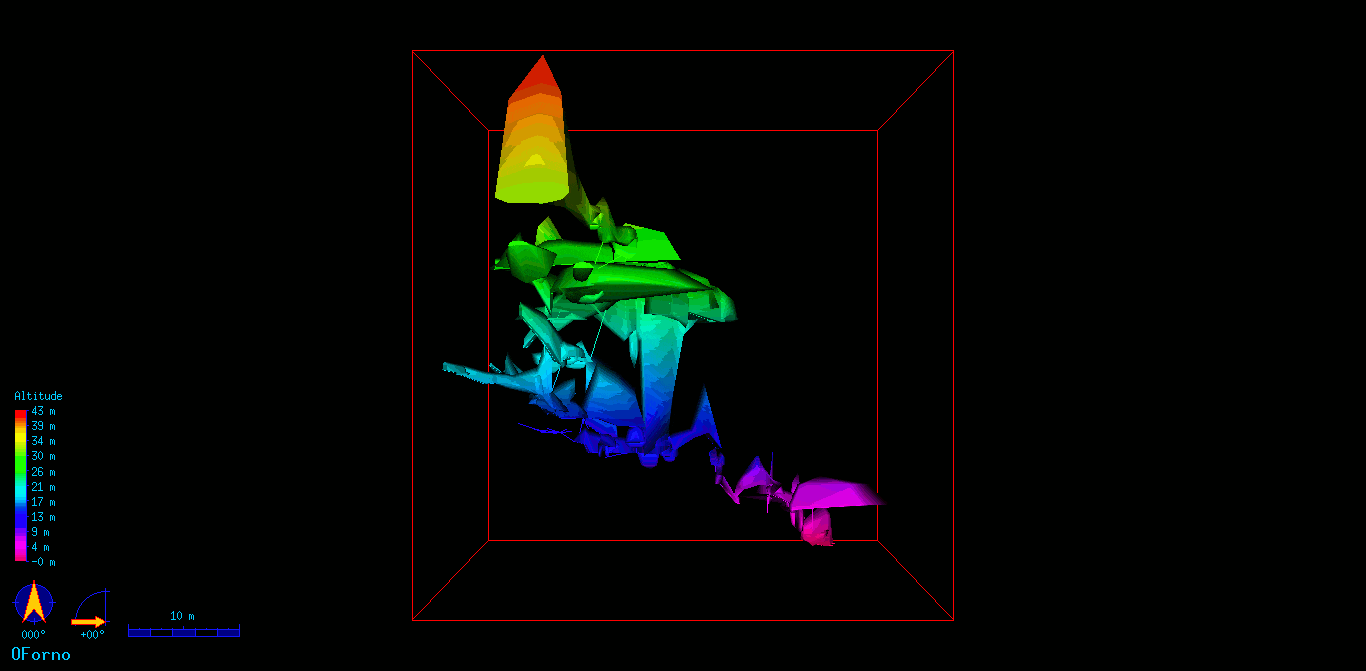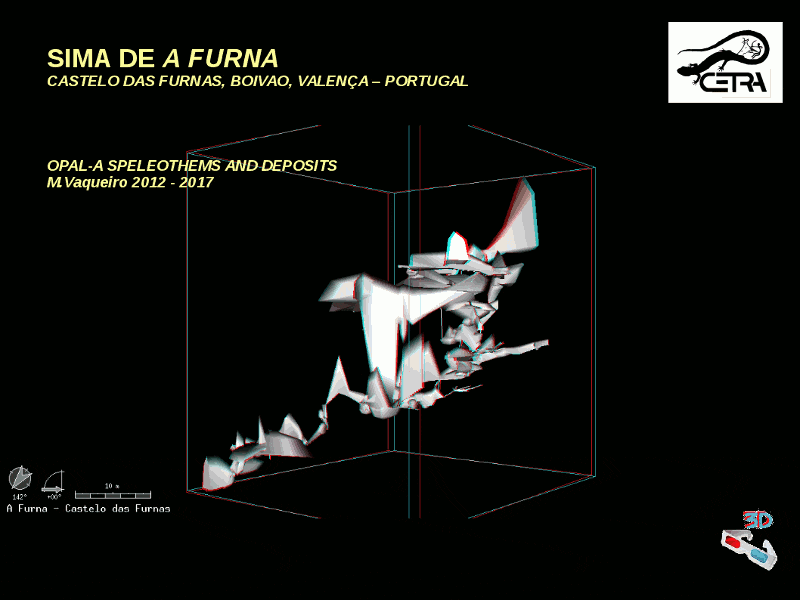 A FURNA PROJECT: 2012/2017. Pit of A Furna. Castelo das Furnas (Boivao, Valença, Portugal).
DATA SUMMARY for A Furna Model
Included Length
353,3 m
Total Surveyed
353,3 m
Cave Depth
32,2 m
Previous record: No data.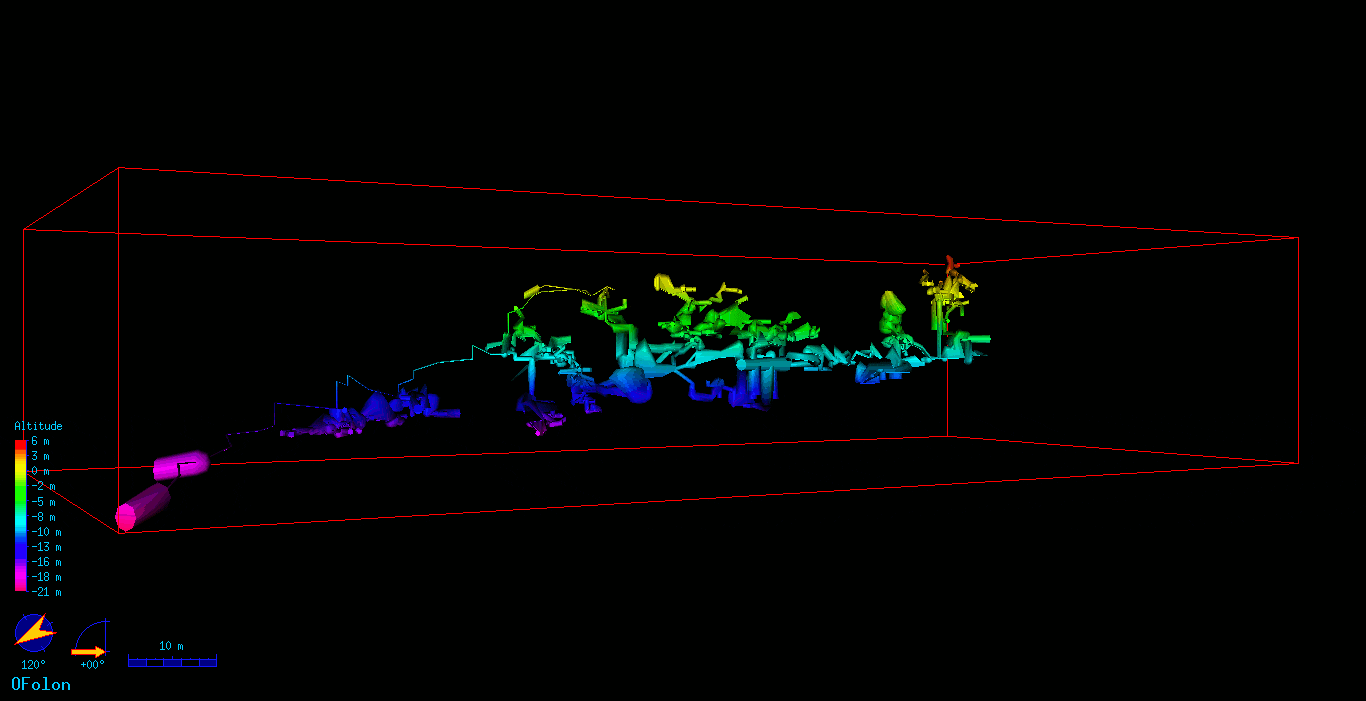 O FOLÓN PROJECT.
DATA SUMMARY for O Folón Model
Included Length
905 m
Total Surveyed
Undetermined
Cave Depth
34 m
Previous record: No data.
QUARTZITE PARAKARST
- October 2012: First quartzite cave from Galicia (O Courel, Lugo, Galicia).
- July 2013: Surveying the first quartzite cave in O Courel.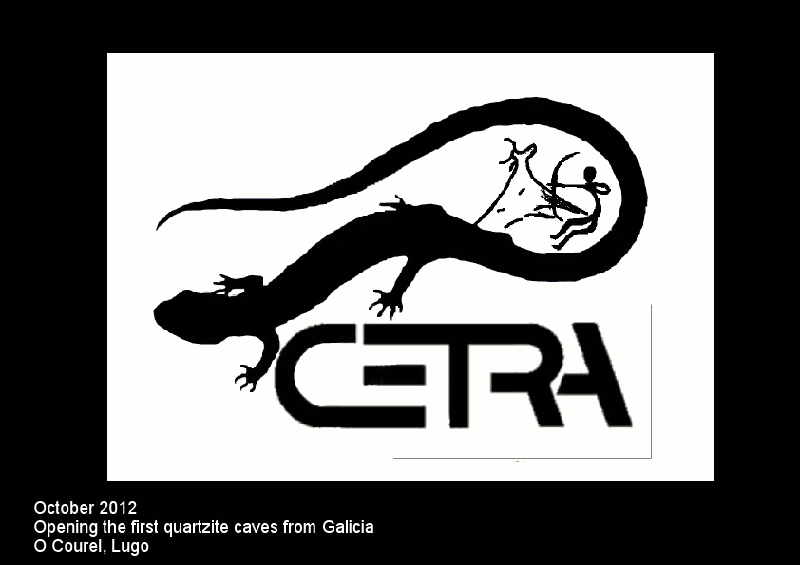 ARTIFICIAL CAVES
January - February 2013: ARTILLERY BUNKER J4. Cabo Silleiro (Vigo, Galicia). Topografía completa.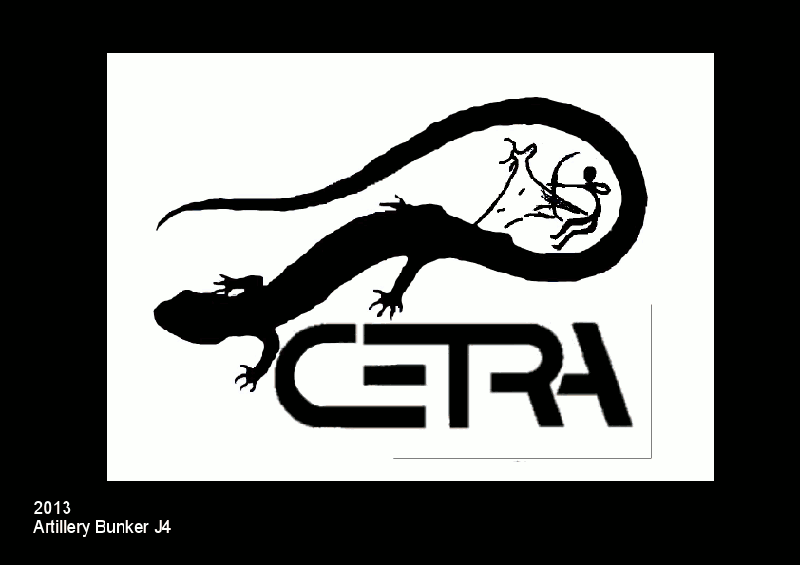 ACTIVITIES
UPCOMING ACTIVITIES
ACTIVITIES
2019
XXIII CAMPAMENTO INFANTIL-JUVENIL DE ESPELEOLOGÍA
Samos and Triacastela, Lugo. September 7 and 8, 2019.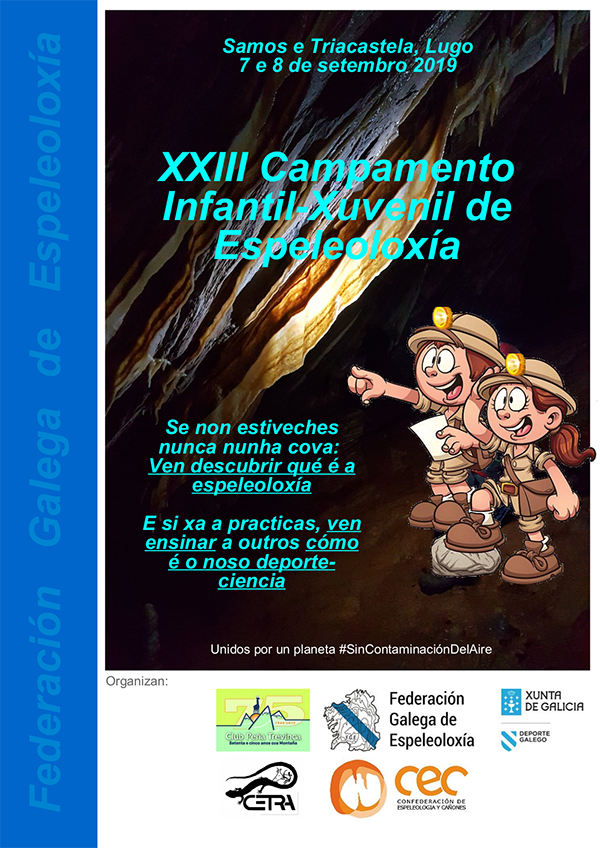 TALLER -WORKSHOP 2019. TOPOGRAFÍA SUBTERRÁNEA ORIENTADA AL DESARROLLO DE MODELOS DIGITALES
Mondoñedo. March 9 and 10, 2019.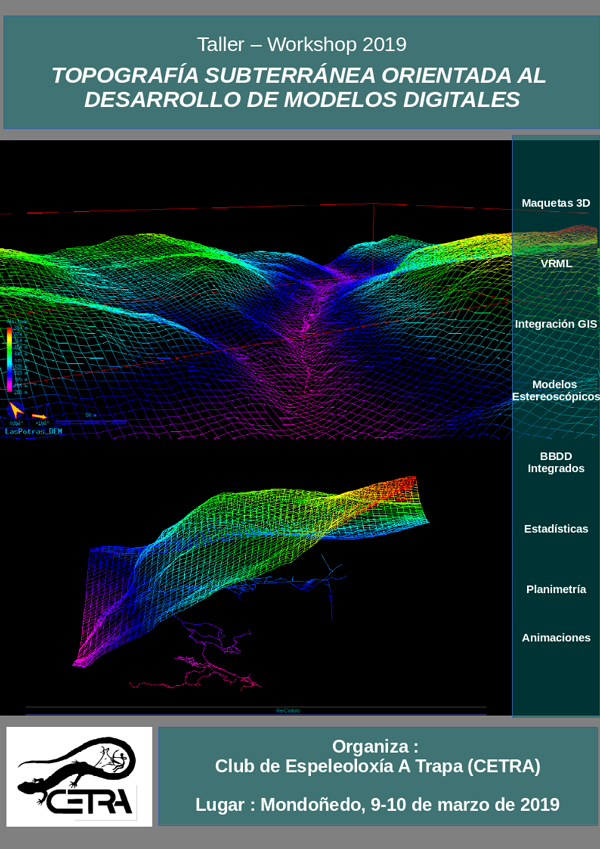 ACTIVITIES
2018
XIX CAMPAMENTO GALEGO EXTRATERRITORIAL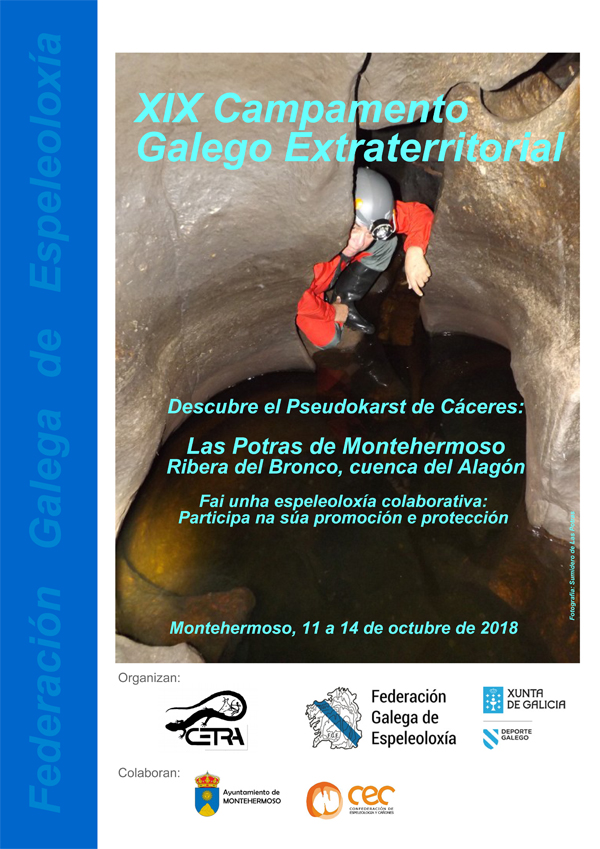 WEEK OF THE CAVING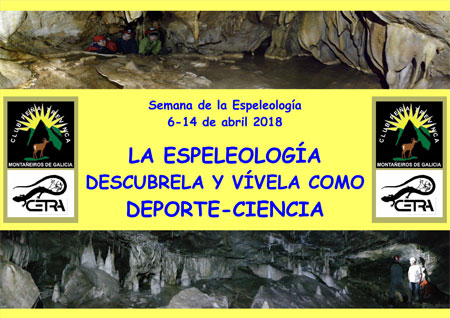 II TALLER DE TOPOGRAFÍA SUBTERRÁNEA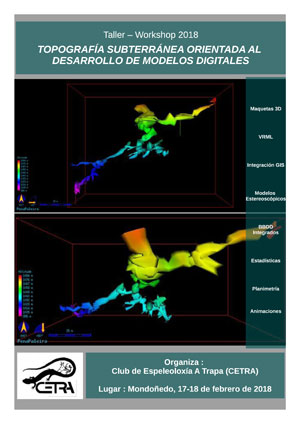 MORE ACTIVITIES
ACTIVITIES
2017
II CAMPAMENTO GALEGO DE VETERANOS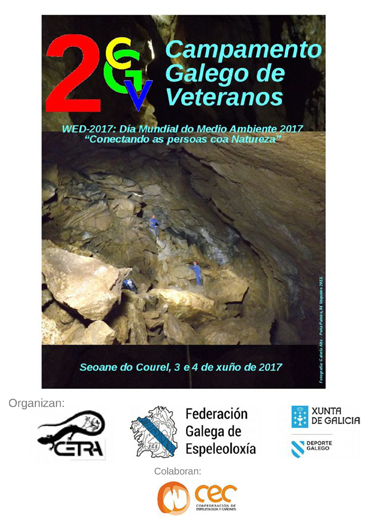 GEOLODÍA 2017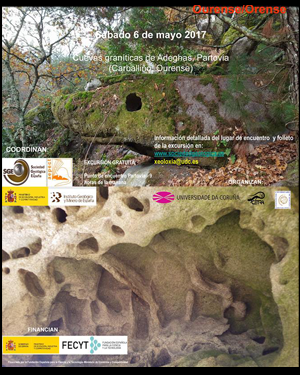 I TALLER DE TOPOGRAFÍA SUBTERRÁNEA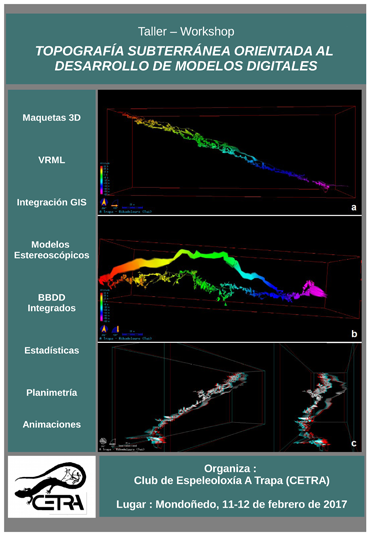 XLIX CAMPAMENTO GALEGO DE ESPELEOLOXÍA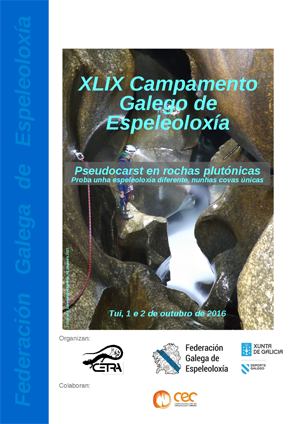 GEOLODÍA 2016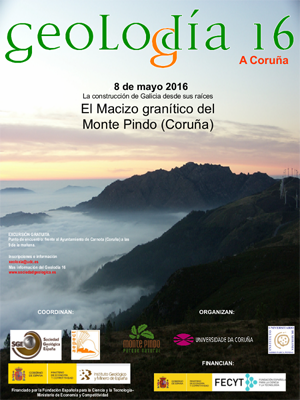 ACTIVIDADE ABERTA. PSEUDOKARST EN ROCHAS PLUTÓNICAS: PRATRIMONIO NATURAL INÉDITO E DIFERENTE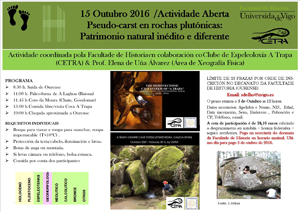 XLVIII CAMPAMENTO GALEGO DE ESPELEOLOXÍA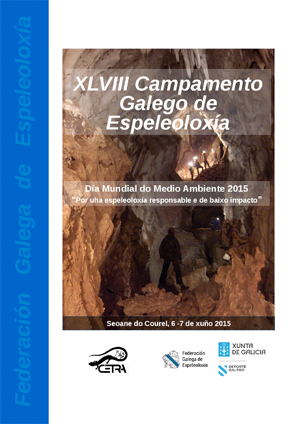 AUGA E PAISAXE KÁRSTICO. SEMINARIO DE INICIACIÓN Á ESPELEOLOXÍA E RUTA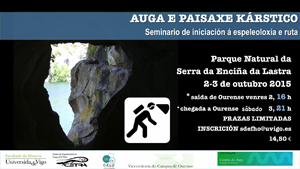 PATRIMONIO XEOLÓXICO DE VIGO: O CASO DAS COVAS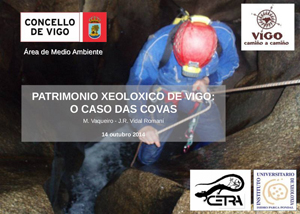 XIII REUNIÓN NACIONAL DE GEOMORFOLOGÍA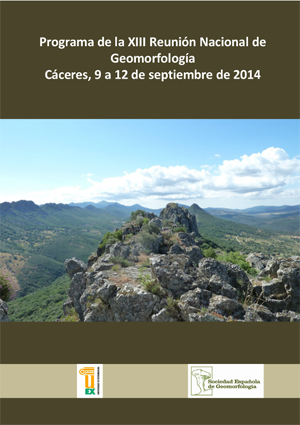 XORNADA MONOGRÁFICA SOBRE TOPOGRAFÍA ESPELEOLÓXICA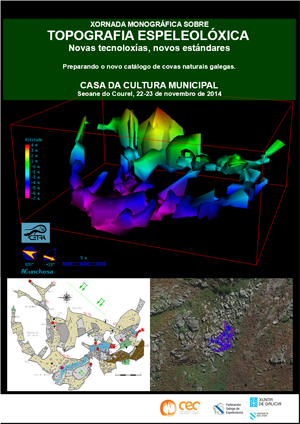 XVIII CAMPAMENTO DE ESPELEOLOXÍA INFANTIL E XUVENIL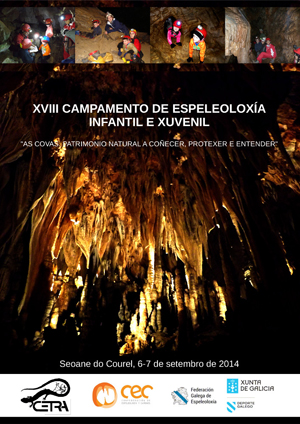 16TH INTERNATIONAL CONGRESS OF SPELEOLOGY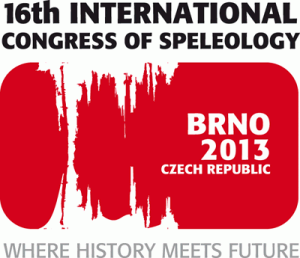 PUBLICATIONS
PROJECTS
"Rei Cintolo: Objective 11.000 m. Building the digital model of the biggest cave in Galicia".
Memory 2020. Updated 11-2020.
"Cova das Pinturas, Lobarzán (Ourense). Morphological Topography and Digital Model".
"Karst and Cancelo Caves (Triacastela): Digital model Cave das Cabras - Cave Eirós"
We support the project "Buraca das Choias, project in the karst of the G-Lu/20 "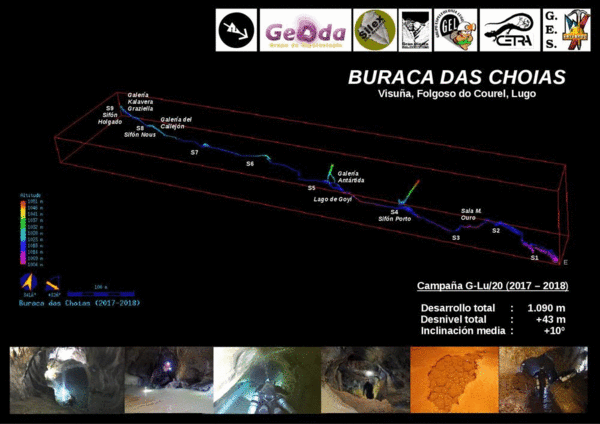 UPCOMING PROJECTS: "Building the Digital Galician Atlas of Caves and Mines".
To participate contact us: cetra@cetra.es
DOWNLOADS
POSTER O FOLÓN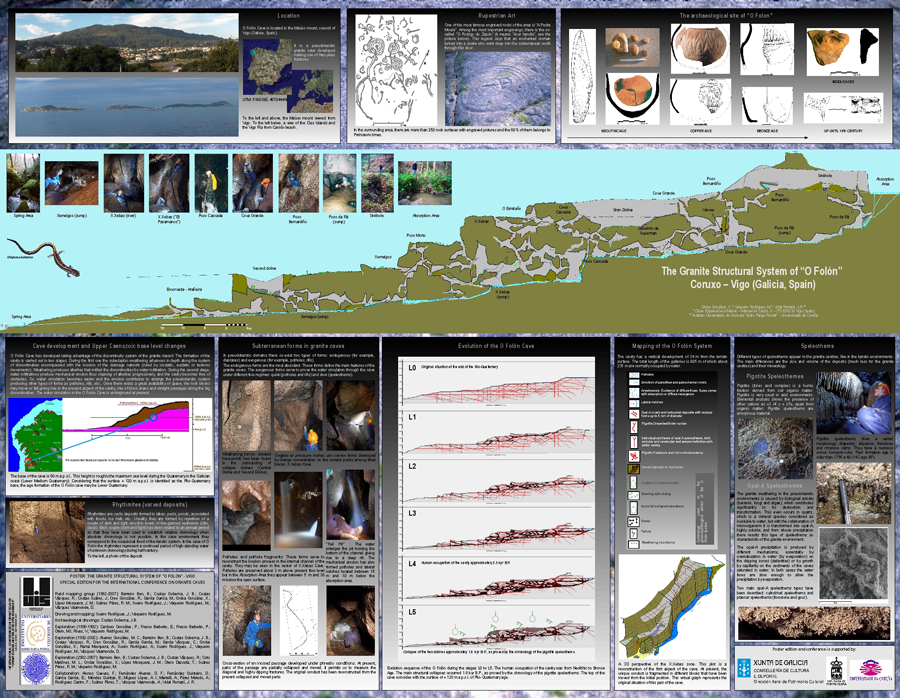 POSTER A TRAPA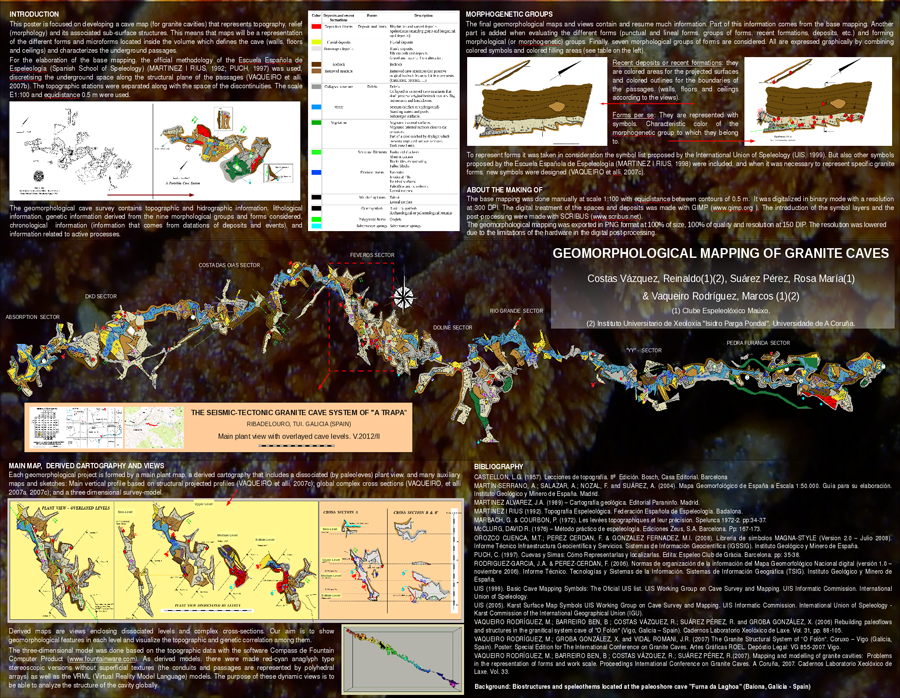 DIGITAL MODEL OF CAVE REI CINTOLO